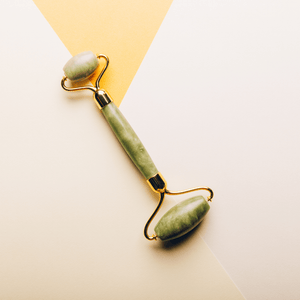 Amplify your skincare routine with a sleek, must-have beauty tool! This gemstone facial roller is great for gently relieving facial stress, reducing fine lines, enhancing circulation, and massaging in serums for greater effectiveness.
Learn more about the skincare tools for Glowing skin on our blog.  
Note: each Facial Roller is unique due to naturally occurring formations, and may vary slightly.
How to use:

Step 1: Wash your face.
Step 2: Apply Facial oil/serum 

Step 3: Massage 

Step 4: Use the roller on your face and neck for 5 to 10 minutes. 
Step 5: Use the Jade roller three times a week to reduce lines and wrinkles.
Step 6: Clean your Jade roller according to the instructions.