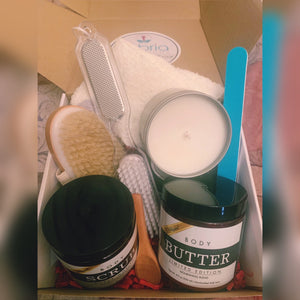 Create your own spa at home and pamper your feet with this relaxing Foot Spa Set.  Relax and scrub your feet with our Guava Mojito scrub and then followup with the Guava Mojito butter.  If you're looking for something a little bit different to treat yourself, a friend, or your special someone in your life, then this is the gift set for you. Made from all natural, high-quality ingredients. You can now take the spa to your home and unwind in the luxury or your own bathroom.
Foot Spa Kit includes:

Whipped Body Butter
Body Scrub
8 oz Travel Tin Candle
Scrub Brush
Pumice stone callous remover
Comfy socks
*If shipped during warmer weather, this product may melt. Body Butters have a low melting point. Please monitor your tracking status to quickly retrieve package from mailbox. If melting at any time occurs, simply place the butter in the fridge and it will solidify. After solidifying please stir butter to fluff. The melting will not affect the great quality and nutrients of the butter. We include a cold pack to try to prevent melting.